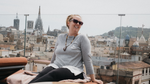 Meet our founder: Amy Holden
I'm Amy Holden, a psychologist, certified mindfulness instructor, and mother. I founded Soul Mates because practising yoga and mindfulness has helped me enormously in my own life and in raising my two young sons. I want to give more kids the chance to discover these amazing tools for life. 
For as long as I can remember, I've been fascinated by the human mind and what makes people behave the way they do. I looked to psychology for answers and was in the middle of studying a degree in psychology when I became pregnant with my first child. Unfortunately, my pregnancy was a difficult one and the birth of my first son was traumatic. I found myself facing all the challenges of new motherhood in a state of stress and anxiety.
I couldn't take strong medicines while pregnant and breastfeeding, so I began to practice yoga and mindfulness as a way to recover my physical and mental health. I was amazed at the results. The practice had benefits beyond restoring me to health - my ability to focus improved and I rediscovered my creativity. I was so intrigued by this approach that I decided to pursue it further, eventually becoming a certified Mindfulness Based Stress Reduction (MBSR) instructor. 
I also wanted to investigate how insights from yoga and mindfulness practices can be integrated into the tools of modern psychology. My research projects for my BSc in Psychology and later studies at Masters level focused on the long term effects of Mindfulness practise. Ironically, the ancient practice of mindfulness is now at the cutting edge of modern psychology. 
I've come to understand that yoga and mindfulness are not merely a remedy for when things go wrong, but also a tool for developing the building blocks of mental health, such as emotional regulation, focusing on values, and relating to others. It's never too early to learn these skills so I've applied this knowledge to raising my children, helping them to recognise and regulate their emotions and become more conscious of their actions. Of course, kids don't need to understand the science behind why yoga and meditation help to create good mental health - they learn best through play and everyday activities that introduce these practices in a natural and fun way. 
Based on my academic research and my own experience I knew that practicing yoga and mindfulness can be hugely beneficial to parents and kids, but I saw that there was almost nothing available in the toy market that helped parents utilise these tools. I decided to use my professional background as a toy designer to create Soul Mates. 
It gives me great satisfaction to see Soul Mates' award-winning yoga mats and story pillows being enjoyed by kids as they play, and knowing that they are building skills based on the principles of yoga and mindfulness that will help them throughout their lives.  
Three things that might surprise you about me…
⭐️ I speak fluent Spanish - It comes so naturally now, I sometimes forget which language I'm speaking! 


⭐️ I'm both British and Australian - despite living outside Australia for more than 20 years, I've never lost my accent. No worries mate! 

⭐️ I'm no hippie - You won't find me barefoot strumming a guitar. I'm a practically-minded entrepreneur who is passionate about yoga and mindfulness because they work - candles and incense are strictly optional!