Discover Kids Yoga & Mindfulness
"If every child in the world is taught meditation, we will eliminate violence within one generation." Dalai Lama
mindfulness superpowers in nature themed characters
Character Collections
Embossed with poses - Just unroll and get omm!
Kids Eco Yoga Mats
affirmations and meditations at bedtime - available in eng, esp & Cat
Mindfulness Story Books
Kids yoga and mindfulness gift packs
The perfect gift
Squeeze to hear a Meditation story in English
Mindfulness Story Pillows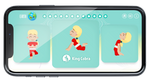 SOUL MATES YOGA SPINNER APP
play our yoga game
The five Soul Mates characters each have a set of yoga poses for you to try - play all five levels to activate the yogiverse and play with more than sixty yoga poses!
The voice-activated control allows kids to activate the spinner without touching the screen by calling out "go yogi go!"
The friendly little yogi character demonstrates the poses and guides your breathing as you play!

From the blog
Yoga isn't just for adults seeking peace and flexibility; it's a wonderful practice for children too! Beyond the physical exercises, yoga offers a myriad of benefits, fostering growth in both mind and body. Let's explore what children can learn and gain from practicing yoga.