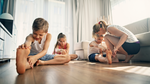 Ways to increase physical activity at home
Our sedentary lifestyle is the main reason why the vast majority of children do not do the physical activity that is recommended by specialists, which is a minimum of one hour a day to prevent illnesses, stimulate their physical development, increase their ability to concentrate and their school performance, as well as prevent childhood obesity.
We know that children do sport at school, but we also need to encourage these habits at home in the form of games in order to adapt sport to our daily practice in a natural way.
Ways to increase physical activity at home
Set a goal
Setting small goals and building on them can help motivate a child to move and lead to long-term healthy habits. For example, stretching - can't your child reach his or her hands to touch his or her feet? I'm sure if he tries stretching every day, he'll get there in no time. Of course, the goals will vary depending on the age of the child.
Be creative
To make exercise fun for children, variety is key. Ask them what activities they enjoy. Each day one member of the family can choose the activity, and in this way we also learn to respect each other's tastes and hobbies. Mix it up day by day, whether it's walking, cycling, dancing, interval running, yoga, playing outdoors.
Online resources
As parents, we struggle to keep our kids away from screens, but for physical activity at home, we have to recognise that screens are one of the best tools for finding a wide variety of physical activities. We would like to recommend our favourites: our Youtube channel Soul Mates Kids Yoga, where you will find yoga sessions specially designed for kids and/or families. We also recommend our yoga app with a spinner that will show you the next asanas with fun characters and relaxing music.
For children of all ages, GoNoodle offers online resources with videos to move as well as mindfulness exercises, or TippiKids. For older children, spending time dancing to the TikTok dances on the same YouTube channel will get them excited. It's amazing how much they can learn with the choreographies, and it's almost impossible to keep up with them!
Other options would be:
Body weight exercises such as push-ups, planks, squats or mountain climbers.
Dancing to music
Balancing on one foot (guaranteed laughs!)
Following and copying the leader (with turns)
Filling a balloon and not letting it touch the ground
Jumping rope

Make exercise a family priority
Choose options and activities that allow you to get active together rather than expecting them to do it alone. If there's a chance to go for a walk or a bike ride, that's fine, but at home you can take advantage of a video-guided yoga class. Being active together is not only good for your family's health, but also offers valuable bonding time.
Can you recommend any other activities to do at home?