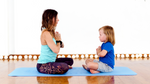 How to teach your children to meditate
Meditation has been practiced for thousands of years as a natural and accessible way to regulate our reaction to stress and manifest good health through conscious and mindful activities. Soul Mates presents a program to introduce meditation to your children to help them manage stress and emotions. Meditation will help them understand and know how to respond to internal stress signals before their brains give way to a full-blown temper tantrum.
How to introduce mindfulness practice to your children
According to Amy Holden, Mindfulness Therapist, mindfulness has multiple benefits such as improving sleep, raising self-esteem, reducing anxiety, increasing the ability to concentrate. Children's curiosity and predisposition to try and accept new activities make it more viable for them to practice mindfulness successfully. Adults, in general, take much longer to reach relaxation, instead we reach the feeling of frustration much faster.
The first tip for your child to start meditating is to do it with them. If you have never done it before and want to start together, Amy Holden recommends her Soul Mates mindfulness stories for kids. The meditation and breathing exercises included in the story are a great way to get started with the practice and have quick results. As mum Ester told us:
The stories are short and simple, my daughter who is 4 years old liked them very much, we bought I am Wave and I am Cloud and we read them every night before going to sleep, they are like a mantra, they relax us and give us the calm we need to fall asleep. We do the breaths and sometimes we accompany the reading by doing the movement of the waves of the sea, at the end we do the stretching exercises and the asanas until we fall asleep. Before it was a real pain to fall asleep and we had a hard time disconnecting from the day and these stories have helped us a lot.
Don't rush kids to learn to meditate quickly. The goal is to embrace the moment. If they are only able to do half a minute before they are distracted, perfect. If it's 3 minutes, great. It's about knowing our own body and mind. Learning to understand the signs and little by little, expanding the practice. If you commit to practice together every day, in a few days we are sure your child will ask you for the practice (or the story).
Personally, as a mum, I have found it more difficult for my children to get into the habit of meditating when they are over ten years old. I use to use meditative music at home such as nature sounds or Tibetan singing bowls, and there are even mantras for kids that are magical in moments of maximum anxiety at home. But sitting down to meditate together is harder for them unless they are in a very high intensity emotion like anger or frustration. But this needs another blog post!
We recommend:
Sign up to our Omm-mazing Activities email for weekly mindful activities and child friendly yoga poses 
Check out our YouTube channel with story meditations and lots of yoga.
Also Insight Timer is great : available online and as an app, this collection of over 30,000 guided meditations, talks, workshops for kids, beginners and advanced practitioners. It is a gem of an app for all ages and all levels. Check out the Soul Mates meditations here. 
Written by Mariona - Soul Mates team member and mindful mum of 11 year old girl and 13 year old boy.