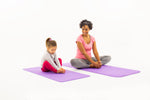 Tips for Starting Your Own Kids Yoga Teaching Business
Are you passionate about yoga and working with children? Starting a kids yoga teaching business can be a rewarding and fulfilling career. At Soul Mates Kids Yoga, we've developed a system and products to make teaching yoga to children easier and more engaging.
If you're new to teaching kids yoga, we recommend starting with our system to create a program that meets the unique needs and interests of your students. Our age-appropriate poses, breathing exercises, mindfulness practices, and relaxation techniques are designed to enhance the learning experience for children and make teaching more fun. Starting a class is very easy with our 'ready to start' class pack with 16 kids mats at wholesale price. We now also have matching adult mats for teachers and teens. 
When starting your business, it's important to create a welcoming and safe environment for your students. Make sure your teaching space is clean, safe, and inviting. Building relationships with parents is also key, as they can help spread the word about your classes and provide important feedback.
At Soul Mates Kids Yoga, we're committed to helping you succeed. That's why we offer pose videos and sample classes on Youtube to help you effectively integrate our system and products into your teaching. We also offer a variety of resources for your class, including a kids yoga app and free weekly email for parents. 
Starting a business can be challenging, but it's also an opportunity to make a positive impact in the lives of children in your community. By teaching kids yoga, you'll be helping them develop strength, flexibility, and balance, as well as reduce stress, anxiety, and depression. And with Soul Mates Kids Yoga, you'll have the resources you need to make your classes engaging and fun. Here are some more tips to starting a kids yoga class...
Start with a small group: Begin by teaching a small group of children, such as friends or family members, to gain experience and confidence. This can also help you refine your teaching style and tailor your classes to the needs of your students.
Create a lesson plan: Develop a lesson plan that includes warm-up exercises, yoga poses, breathing exercises, mindfulness practices, and relaxation techniques. This will help you stay organised and ensure that you cover all the necessary components of a kids yoga class. Use Soul Mates Yoga Cards and Mats to help your planning. 
Attend workshops and trainings: Consider attending workshops and trainings to learn new teaching techniques, gain inspiration, and connect with other kids yoga teachers. This can also help you earn continuing education credits and expand your knowledge of yoga and mindfulness. Our favourite kids teacher training course is YogaBeez. 
Utilize social media: Use social media platforms, such as Instagram and Facebook, to promote your classes, share pictures and videos of your students, and connect with other kids yoga teachers and parents. This can help you build a community and attract new students. Share your class with us @soulmateskidsyoga
Keep it fun and engaging: Remember that kids yoga should be fun and engaging for children. Incorporate games, stories, music, and props, such as Soul Mates Kids Yoga's mindfulness story pillows and yoga cards, to make your classes interactive and exciting for your students.
If you're ready to start your own kids yoga business, check out our website and shop our products today. We can't wait to see how our system and products will enhance your teaching and make a difference in the lives of the children you work with.