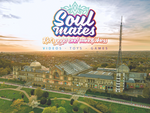 Soul Mates Kids Yoga goes to London!
Soul Mates Kids Yoga will be at Om Yoga Show at Alexandra Palace in London on 14th-16th October! Come and say hi at Soul Mates Kids Yoga stand F11a near the children's area. 
We are also hosting a free play Family Playtime session on Sunday 16th October 2022 at 3:45 PM - 4:15 PM in the Children's Area- Kids of all ages can come and enjoy our Soul Mates Kids Yoga Mats and Mindfulness Story Pillows and Books. 
Just Unroll and Get Omm!
 ✨

 

Family Playtime with Soul Mates Kids Yoga
Come and join us for family playtime!
Explore our Soul Mates Kids Yoga Mats with nature inspired poses embossed onto each mat. There will be a Soul Mates mindfulness storytime, the books and audio pillows will also be available in the session to discover in your own time. Activate your bodies and calm your minds. No need for a teacher, just come and explore yoga and mindfulness together in a relaxed and fun way. Just unroll and get Omm ✨
Soul Mates products are made for kids aged 2 to 12 years but everyone is welcome.
Kids yoga mats and mindfulness products will be provided for the session by Soul Mates Kids Yoga.
Follow Soul Mates Kids Yoga @soulmateskidsyoga