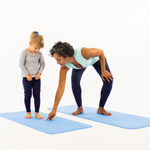 How to Teach Kids Yoga without Training
Are you looking to introduce yoga to kids? Great! Whether you teach in a school, a studio or at an extracurricular activity… you can use Soul Mates Kids Yoga to help kids activate their bodies and calm their minds.
Children are naturally drawn to movement and exploration. Why not take advantage of this? Soul Mates makes yoga easy, fun and modern. We have a fun way to connect kids to the body, while learning poses and strengthening muscles.
Soul Mates Kids Yoga is the perfect introduction to yoga for kids ages 3 to 12 years old. Introducing kids to yoga early in their lives teaches them important lessons on mindfulness, gives them a practical tool to de-stress and calm themselves after school and provides a great alternative for physical education teachers who are looking for an activity that will help their students focus better and relax.
Teaching kids yoga has never been easier, using our embossed yoga mats in all 4 colours gives a range of poses on each. Each colour mat has a special character based on nature. The sun, moon, earth, wave and cloud all have their own characteristics that encourage the growth of Mindfulness Superpowers. For example our Earth collection inspires feelings of security, connection with all living things, a feeling of being centred and grounded when the world feels very big. It reminds us of the solid nurturing earth beneath us and all around us. The poses on the Earth Kids Yoga Mat are grounding, animal and nature poses like tree and  waterfall, king cobra and gecko. These poses help you connect with your inner self and the other living beings that share our world. 
Plan your class using the nature characters, using our class videos and our individual pose videos on youtube which guide you step by step through the poses on the mats. There is also our yoga game mobile app to encourage your class to practice and play at home and you can also include our Mindfulness story books or pillows as the meditation at the end of the class. 
Soul Mates Kids Yoga empowers children with the tools and confidence to tackle the world. Our Omm-mazing activities provide core experience in mindfulness, allowing them to unwind after a long day of school and explore the world in a calm and safe environment. Our program is designed to be student-led, making it the perfect tool for teachers who are looking for an activity that will help their students focus better and relax at the end of the day.
Fun, active and creative; Soul Mates Kids Yoga inspires kids to move in ways they never thought possible. Our adapted poses engage children and help them develop core strength, flexibility and balance. Classes and products also focus on breathing exercises which teach kids how to be in the moment.
At this point, it's not about yoga being marketed as something for a particular age range—it's instead about the physical, emotional and mental benefits of yoga and mindfulness. As long as more people become aware of these benefits, we'll likely see more young people incorporating yoga into their daily lives—and that's a really good thing.
Soul Mates Kids Yoga resources available for teachers or parents wanting to introduce kids to yoga:
You can order your mats today or contact us for more information, follow us on Instagram and Subscribe on Youtube. Email any questions to hello@soulmateskidsyoga.com